At PokerGO Studios within the luxurious Aria Hotel & Casino, some of poker's best players gathered to compete for this year's PokerGO Cup. Always a popular spectacle amongst poker fans, this year's PokerGO Cup had even more to be excited about if you happened to be a PokerCoaching member. If you received a free subscription to PokerGO via our holiday season sales, there was no better time to activate it as two of our coaches were patched up and prepared to make deep runs. 
Aram Zobian Wins Event #2 Of The PokerGO Cup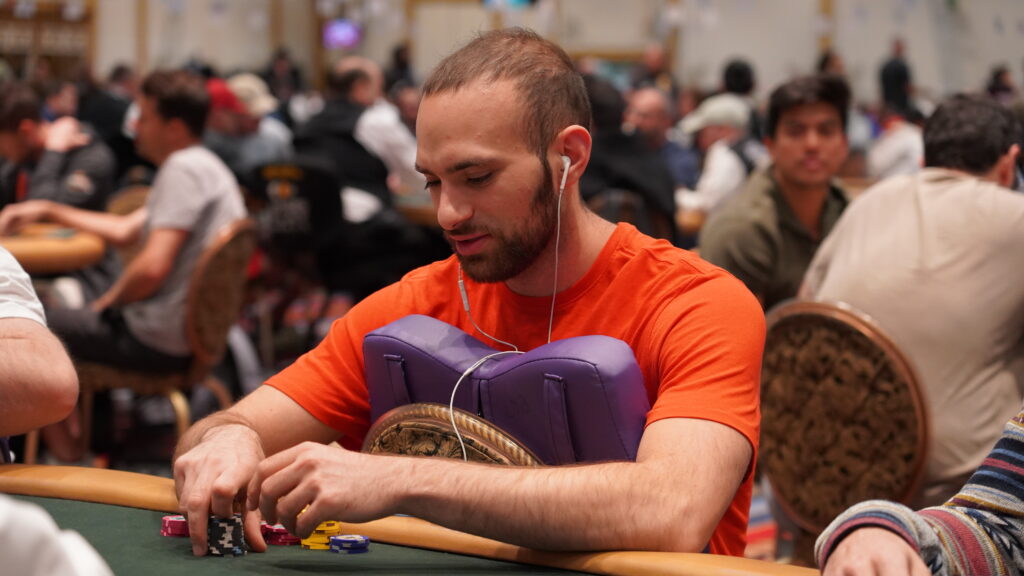 Coming into the final table of the $10,000 buy-in tournament, PokerCoaching coach Aram Zobian sat as chip leader with over one million chips more than the next closest player, Kristen Foxen. With any PokerGO tournament series, the competition is often stiff, with this final table being no different.
PokerGO Cup Event #2 Final Table Starting Stacks
PlayerChip CountAram Zobian3,495,000Kristen Foxen2,160,000Punnat Punsri1,900,000Seth Davies1,280,000Andrew Moreno950,000Cary Katz590,000
The combined career winnings (provided by Hendon Mob) of the Event #2 final table stood at nearly $70 million dollars, illustrating the high level of ability amongst the remaining six players. Third place in chips coming into the Event 2 final table was Punnat Punsri, who sits at #1 on his home country of Taiwan's all-time money list. 12th place on the overall all-time money list, PokerGO founder Cary Katz remained a threat despite arriving at the final table as the short stack. #1 on Oregon's all-time money list, Seth Davies looked to spin it up en route to his first ever PokerGO Cup win along with fellow pros Andrew Moreno and Kristen Foxen.
Multi-Way Against A Three-Time WSOP Bracelet Winner and Taiwan's Best
Following the elimination of both Cary Katz in 6th place and Andrew Moreno in 5th, Aram was folded to in the cutoff and raised 105,000 out of his 3,900,000 stack holding Q♥-9♥. Punsri flatted in the small blind holding A♣-J♣, and Foxen flatted as well holding Q♣-4♣ as the big blind. 
Flop: 9♣-5♦-3♣
Punsri: A♣-J♣
Foxen: Q♣-4♣
Zobian: Q♥-9♥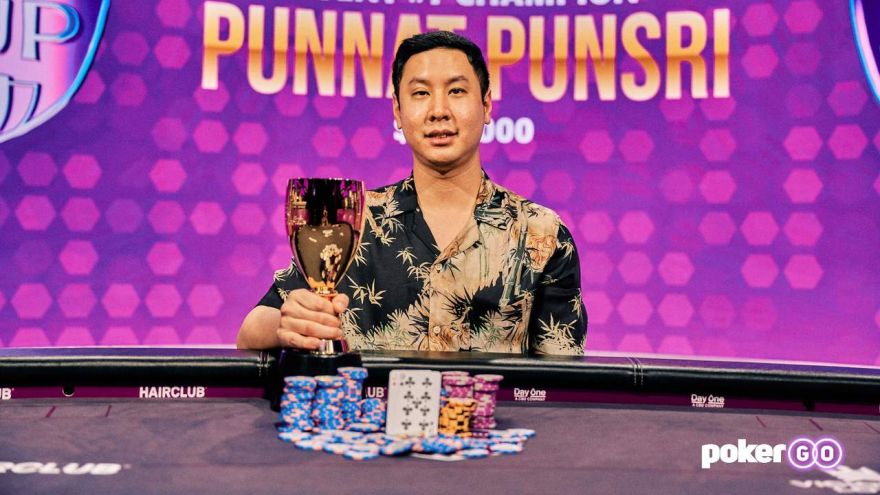 Punnat Punsri following his win in Event #7 of the 2023 PokerGO Cup (Photo Courtesy of PokerGO)
Despite flopping top pair, Aram was at risk with both opponent's flopping flush draws. Checked to in-position, Aram made a 120,000 continuation bet which was called by Punsri, but was then check-raised by Foxen for 380,000. Sensing his hand was at risk, Zobian folded while Punsri forced Foxen all-in, holding the nut-flush draw. Foxen quickly forfeited her hand, rewarding Punsri with the pot.
Bluffing On The River At PokerGO Studio
Running his pocket deuces straight into Punsri's pocket rockets, Seth Davies was eliminated in fourth place leaving Event 2 with just three players remaining. 
Following a fold from Punsri first-to-act, Foxen got sneaky as she limped A♠-K♦ from the small blind with just 13 big blinds effective. Aram checked his option holding J♠-8♠. 
Foxen: A♠-K♦
Zobian: J♠-8♠
Flop: Q♥-5♠-3♣
Turn: 9♦
After the flop checked through, picking up a gutshot straight-draw Aram fired out a 170,000 bet following a check from Foxen. Still having a strong ace-high, Foxen called.
River: 4♣
With a blank for both players on the river, Foxen checked. Knowing jack-high would not be good enough to take down the pot, Aram bet again for 665,000 forcing Foxen all-in. Unable to find the call with the better hand, Foxen mucked the winner giving Aram not just a sizable pot, but momentum.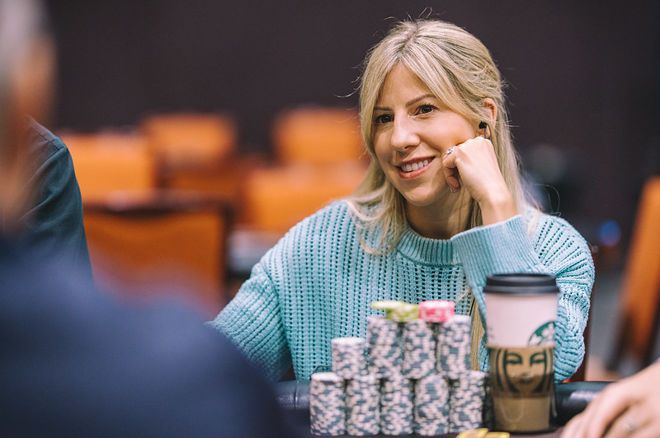 Three-time WSOP bracelet winner Kristen Foxen (Photo Courtest of PokerNews)
Aram Zobian Eliminates Krissyb24 With Pocket Aces
Looking down at A♦-A♥ first-to-act preflop, Aram executed a 120,000 min-raise. A♣-8♣ was good enough for Foxen, who moved all-in for her 785,000 remaining chips. Aram easily made the call.
Zobian: A♦-A♥
Foxen: A♣-8♣
Flop: Q♠-10♦-7♥
Turn: 9♦
River: 10♠
Despite picking up a gutshot straight-draw on the turn, Foxen would not be able to find the miracle jack and was eliminated in third place.
Head's-Up Play
Heading into head's-up play, Aram would be faced with a small deficit owning 4,460,000 chips to Punsri's 5,915,000. With both players deep stacked at 74 and 98 big blinds effective, Aram had plenty of time to lock-in and play his best against a capable opponent.
There would be frequent lead changes between Aram and Punsri as both players battled it out in PokerGO Studio. Early in the head's-up match, Punsri raised 150,000 holding the pretty A♠-J♠. Holding the suited combo of J♣-4♣, Aram made the call.
Flop: A♣-10♦-7♣
Zobian: J♣-4♣
Punsri: A♠-J♠
After a check from Aram, Punsri executed a 180,000 bet. Aram called.
Turn: 10♣
Despite the fact Aram turned his flush, both players checked.
River: 4♦
Pursuing value for his flush, Aram led out with a chunky 1,100,000 bet. Punsri made the call, paying off Aram and giving up the chip lead.
Punsri Regains The Head's-Up Chip Lead
As blinds increased to 40,000/80,000 (80,000 ante), Punsri raised 200,000 out of his 2,750,000 stack holding K♥-Q♠. After looking down at Q♥-7♠, Aram made the call with a stack of 7,450,000.
Zobian: Q♥-7♠
Punsri: K♥-Q♠
Flop: Q♣-6♦-5♣
Both players nailed top pair on the flop, with Aram having a runner-runner straight-draw as well. Out of position, Aram checked and then called Punsri's 160,000 bet.
Turn: 10♦
Defending his better top pair, Punsri made a 800,000 pot-sized bet after being checked to. Aram called.
River: 3♣
As potential flush draws got there on the turn, Aram checked again. With the pot at 2,800,000 and only having 1,630,000 behind, Punsri moved all-in and was met by a snap-call from Aram. Nodding his head upon reveal, Aram shifted his focus to the next hand after losing the chip lead.
The Winning Poker Hand
For 30 minutes, Aram and Punsri continued to exchange the chip lead as they battled it out for the trophy placed between them. From his stack of 3,710,000, Punsri limped with A♠-7♥. Peeping down at 8♣-6♦, Aram checked his option with 6,470,000 behind.
Zobian: 8♣-6♦
Punsri: A♠-7♥
Flop: 8♠-8♥-7♦
Flopping the world, Aram checked to Punsri. Pairing his 7, Punsri bet 80,000 and was check-raised by Aram for 225,000. Punsri called.
Turn: 2♠
Following the inconsequential turn card, Aram checked and was met by a 320,000 bet from Punsri. Again, Aram executed a check-raise, this time for 910,000. Punsri again called.
River: 2♦
With two pairs on the board, Aram boated up and had the best hand. The pot having reached nearly the size of Punsri's stack, Aram used two of his time banks before ultimately putting his opponent all-in. Stuck with no time banks, Punsri had to quickly make a decision. Ultimately, Punsri decided to call with two pair, relinquishing his remaining chips to the new PokerGO Cup event winner.
Congratulations To PokerCoaching Coach Aram Zobian On His Win At The PokerGO Cup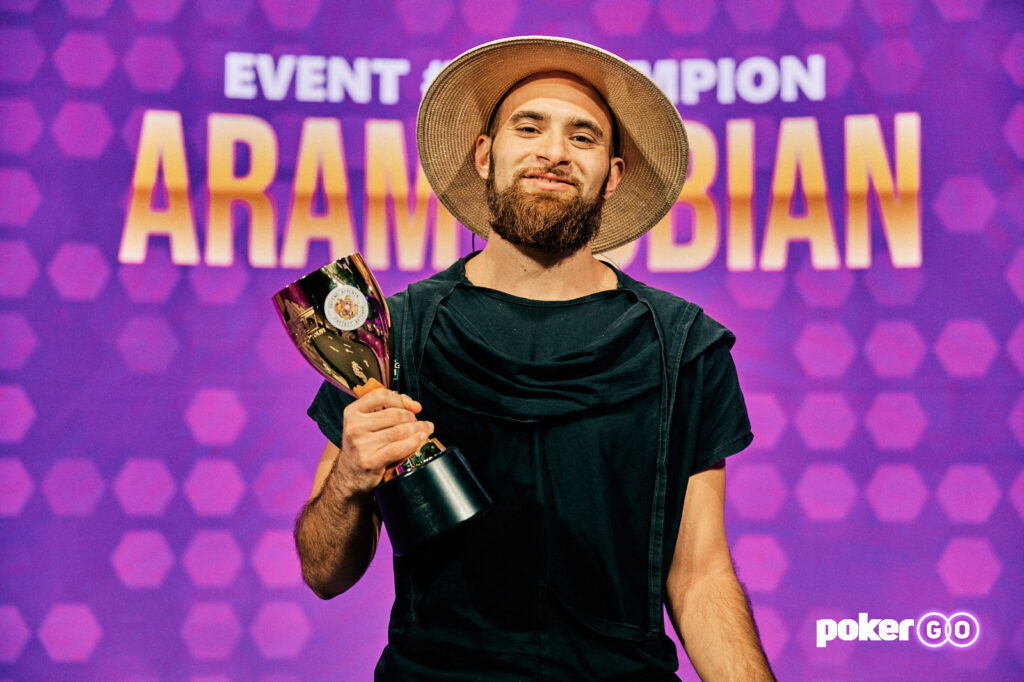 Photo Courtesy of PokerGO
With his first place finish in Event #2 of the 2023 PokerGO Cup, Aram locked up $207,500 and his first live bink since 2020. Aram continued to play well throughout this year's PokerGO Cup, reaching the final table in the series' $15,000 buy-in tournament. Congratulations Aram, way to represent Team PokerCoaching!
PokerGO Cup Event #2 Final Table Results
PlayerPlacePrizeAram ZobianFirst$207,500Punnat PunsriSecond$149,400Kristen FoxenThird$99,600Seth DaviesFourth$83,000Andrew MorenoFifth$66,400Cary KatzSixth$49,800
Justin Saliba Binks His First Major Live Win At The PokerGO Cup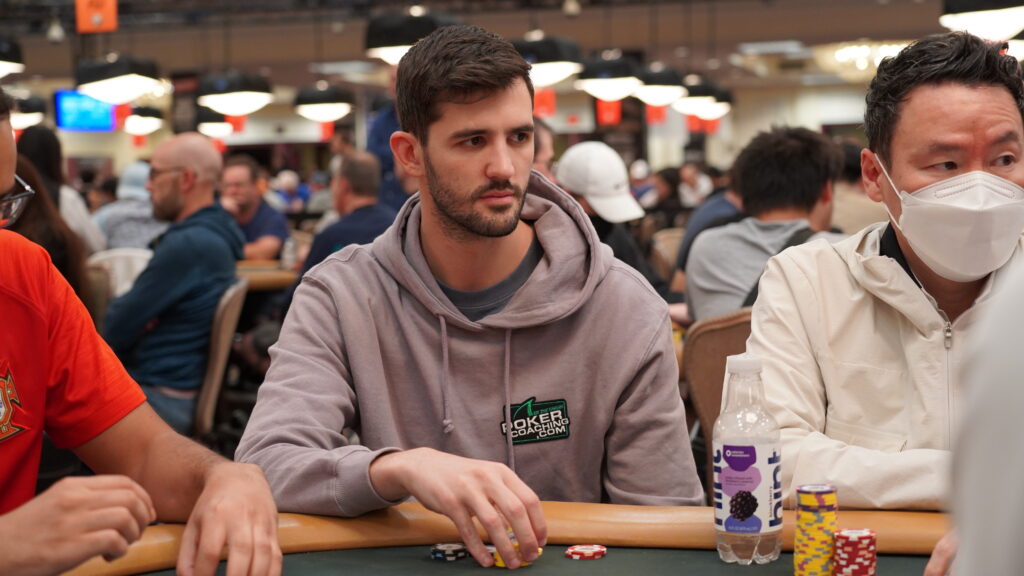 As we referenced in our list of Top 10 Poker Players To Watch In 2023, despite having two WSOP bracelets to his name, PokerCoaching coach Justin Saliba had yet to secure his first major, live poker tournament win. Coming into the final table of Event #4 as one of the shortest stacks, Justin would have to play his best to overcome an impressive field of opponents.
PokerGO Cup Event #4 Final Table Starting Stacks
PlayerChip CountAnthony Hu3,380,000Erik Seidel2,100,000Andrew Moreno1,720,000Adrian Mateos1,030,000Justin Saliba830,000Calvin Lee690,000
All six players at the Event 4 final table shared a combined career winnings total of $79,163,380. Along with Event #2 final tablist Andrew Moreno, Justin had to play through not only one of the world's best, young poker players in Adrian Mateos, he also had to face Poker Hall of Famer Erik Seidel. With 830,000 chips to his name, Justin was ready to spin it up and chase his first live win at PokerGO Studio.
Justin Saliba Plays Pocket Aces Against Anthony Hu
Utilizing his substantial chip lead, Anthony Hu raised 100,000 from the button holding 9♦-7♣ (72 big blind effective stack). Not wanting to scare his opponent away from potentially doubling him up, Justin flatted holding A♥-A♣ with 9 big blinds effective in the small blind.
Flop: 8♦-6♥-3♣
Despite how clean the flop looked, Justin surely had no idea his pocket aces were at risk to Hu's open-ended straight-draw. Following an out-of-position check from JustGTO, Hu carried out a 75,000 continuation bet. Justin called.
Turn: K♣
On fourth street, Justin again checked to Hu, who made a 100,000 bet. Cool, calm, and collected, Justin elected to call rather than rip it in. If he could fade a 10 or a 5, there was a good chance he could complete the double-up on the river.
River: Q♦
Giving his opponent a chance to pay him off, Justin would exercise patience yet again and checked. Giving up after missing his straight, Hu checked it back, yielding the pot to Justin.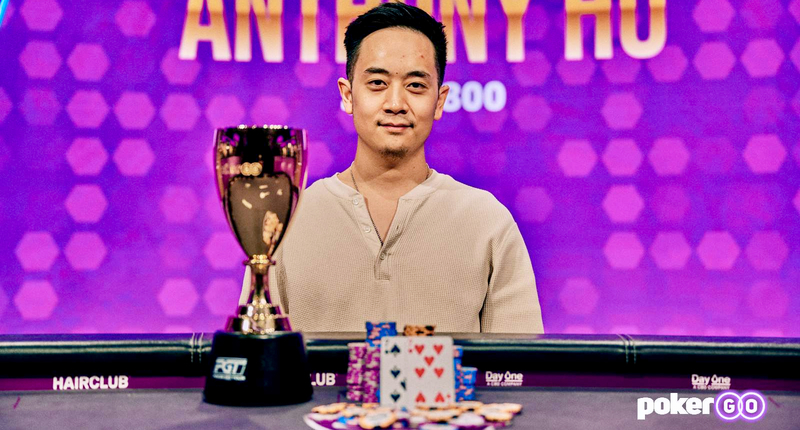 Anthony Hu following his win in Event #5 of the 2023 PokerGO Cup (Photo Courtesy of PokerGO)
JustGTO Hits Runner-Runner To Double-Up Through Erik Seidel
With just under 11 big blinds in the hijack, Justin looked down at the pretty Q♥-J♥ and raised 505,000, leaving only 2.5 big blinds behind. Folded to in the small blind, nine-time WSOP bracelet winner Erik Seidel had JustGTO dominated, forcing him all-in with Q♦-Q♠. With no other choice, Justin made the call.
Flop: A♠-8♦-3♦
Turn: K♦
River: 10♥
Going runner-runner and hitting the three-outer on the river, Justin had successfully doubled-up through Seidel. Echoing what many viewers were likely thinking, one anonymous PokerGO viewer commented in the live stream chat "Welp, the best player at the table has chips now."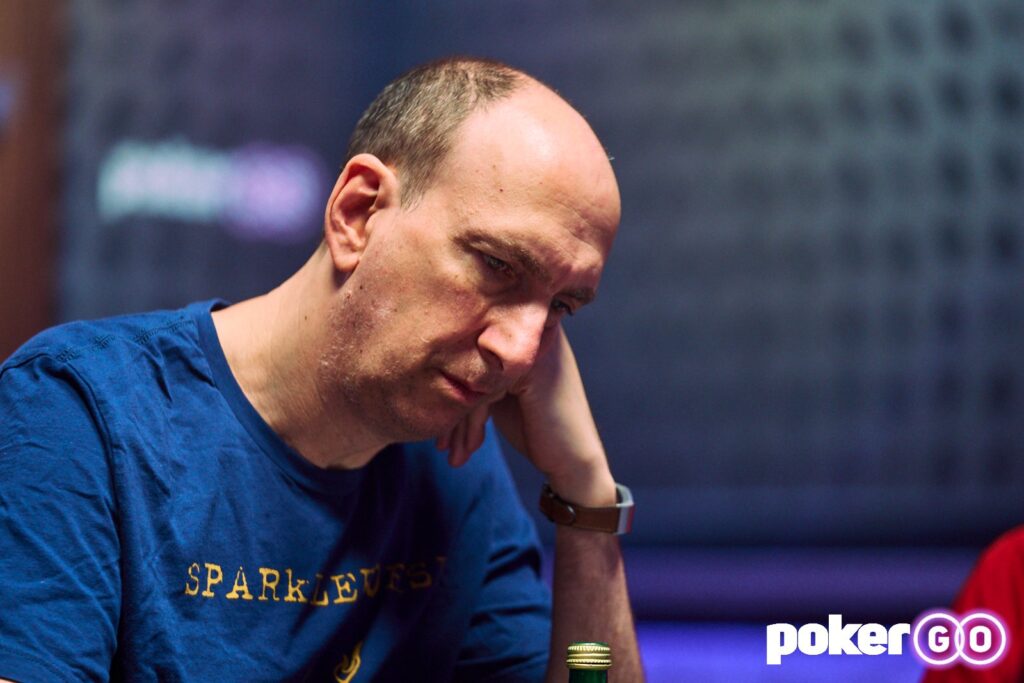 Nine-time WSOP bracelet winner and Poker Hall of Fame Inductee Erik Seidel
Going Toe-To-Toe With Amadi17
Following the eliminations of Erik Seidel, Andrew Moreno, and WSOP bracelet winner Calvin Lee, Justin was three-handed facing both Anthony Hu and Spain's #1 all-time money winner Adrian Mateos. With 16 big blinds effective in the small blind, Justin ripped it in holding K♥-J♠ following a fold from Hu. After peering down at K♦-10♦, Mateos made the call and was at risk.
Saliba: K♥-J♠
Mateos: K♦-10♦
Flop: 8♥-7♥-2♥
Turn: 9♥
Completing the flush on the turn, Saliba successfully knocked out The Conquistador and was one opponent away from winning the tournament.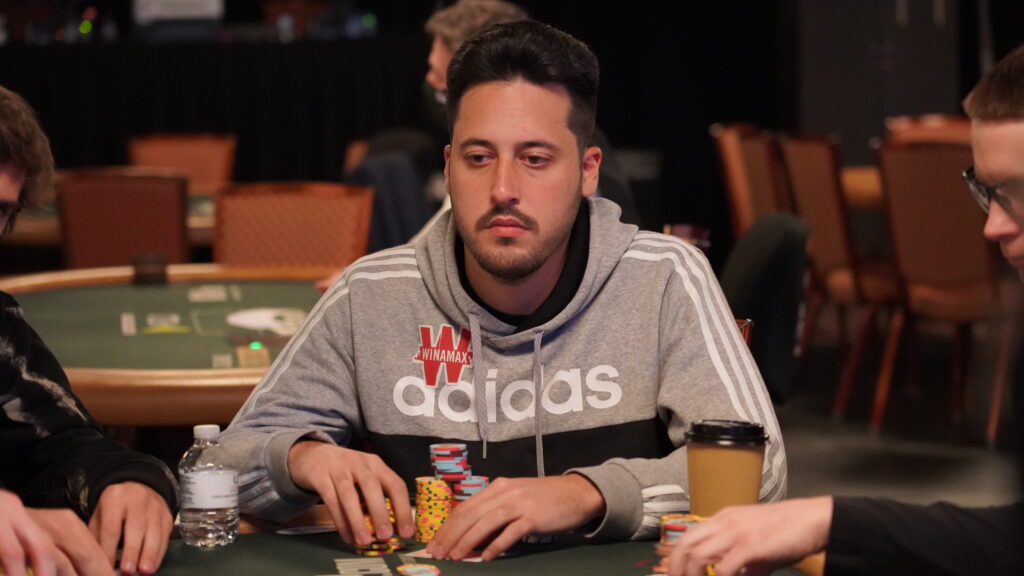 Adrian Mateos, #1 On Spain's All-Time Money List
Head's-Up Play
With just two players remaining, Justin was at a sizable stack disadvantage, having just 3,075,00 to Anthony Hu's 6,675,000. Despite Hu having double the chips, Justin showed he would not go down without a fight.
In the very first hand on head's-up play, Justin raised first-to-act holding A♠-Q♥. Not going anywhere with A♣-6♠, Hu called. 
Flop: J♦-J♥-5♠
On the paired board, Hu checked to Justin who made a small 150,000 continuation bet. Hu called.
Turn: Q♣
Pairing his queen, sized up with a 550,000 bet following another check from Hu. Hu called.
River: Q♠
While quad jacks would have ended his evening, Justin was surely feeling safe when he saw the third queen come across the felt. After a third and final check from Hu, Saliba nearly moved all-in betting 1,900,00 and leaving 175,000 behind. Although Hu would fold, Justin gained a large percentage of the chips in play nearly evening up the stacks.
Anthony Hu Soul Reads Justin Saliba 
First to act with Q♥-J♠ and 61 big blinds effective, Hu raised 250,000 drawing a call from Justin with 6♦-4♦ and 34 big blinds effective.
Saliba: 6♦-4♦
Hu: Q♥-J♠
Flop: 8♥-5♥-5♦
Flopping a gutshot and runner-runner flush draw, Saliba check-raised Hu's 150,000 continuation bet with a 450,000 bet of his own. Hu thought about it, but eventually called.
Turn: 4♠
Pairing his four, led out with a 200,000 bet. With two overs, Hu called.
River: 8♦
Despite getting counterfeited on the river, Justin refused to go anywhere, betting his entire stack minus 75,000. Holding the best hand, Hu smirked, nodded, and peeked at his cards before asking "6-4?". Even though he had made the perfect soul read, Hu could not find the call, relinquishing the pot to Justin.
The Winning Poker Hand
After over an hour of head's-up play, Justin had overtaken Hu, owning the chip lead with 7,125,000 (57 big blinds effective) to Hu's 2,625,000 (21 big blinds effective). Looking down at A♣-4♦, Justin decided it was time to drop the hammer and end it, raising Hu all-in. Holding an ace of his own with A♠-7♥, Hu called and was ahead.
Saliba: A♣-4♦
Hu: A♠-7♥
Flop: 9♠-5♦-2♣
Turn: Q♣
River: 3♦
Hitting another runner-runner straight, Justin Saliba made it across the finish line, defeating Anthony Hu to claim his first, major live tournament win.
The Heater Continues For PokerCoaching Coach Justin Saliba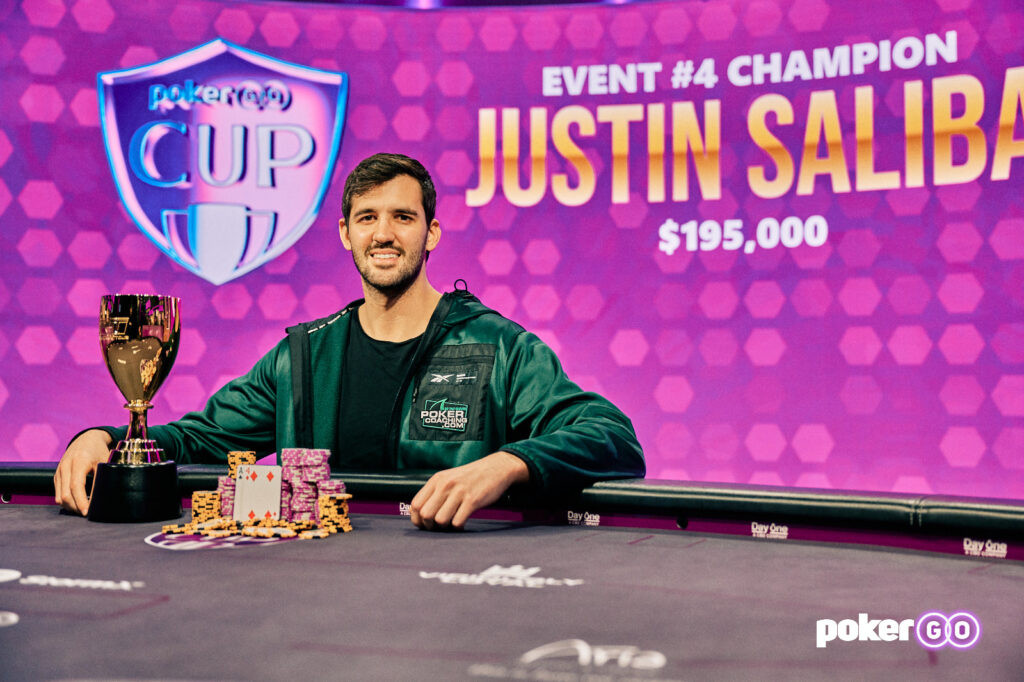 Photo Courtesy of PokerGO
Justin's big win at the PokerGO Cup was just one of a series of recent scores. Ten days prior to his win at PokerGO Studio, Justin took fifth place at Borgata's $5,300 buy-in "The Return" championship event for $304,629. If two six-figure scores weren't enough, just five days after his victory in the PokerGO Cup, Justin cashed for $353,175 in the Lucky Hearts Poker Open Series $25,500 High Roller tournament after making a four-way deal and finishing in second place. Over $657,000 in winnings over a span of five days, not bad Justin!
Cary Katz Wins The 2023 PokerGO Cup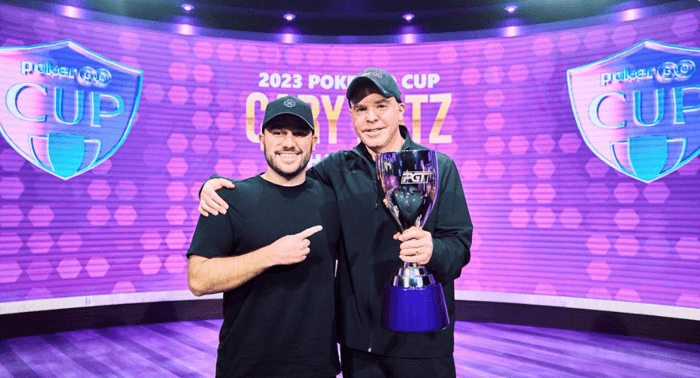 Cary Katz with his 2023 PokerGO Title trophy (Photo Courtesy of PokerGO)
Despite tournament wins for both Aram and Justin, neither one of our coaches were close to winning the PokerGO Cup series title. With five cashes throughout the course of the series, PokerGO owner and poker player Cary Katz won the coveted trophy while also taking home $655,800 in total winnings. On behalf of everyone from Team PokerCoaching, congratulations Aram and Justin! We are all looking forward to reading about your next big binks.
2023 PokerGO Cup Series Results
PlayerPlacePokerGO Cup Series PointsCary KatzFirst460Anthony HuSecond454Alex FoxenThird393Isaac HaxtonFourth359Sean WinterFifth341Punnat PunsriSixth335Aram ZobianSeventh292Ed SebestaEighth258Orpen KisacikogluNinth212Erik SeidelTenth223